Top Things To Do in Antalya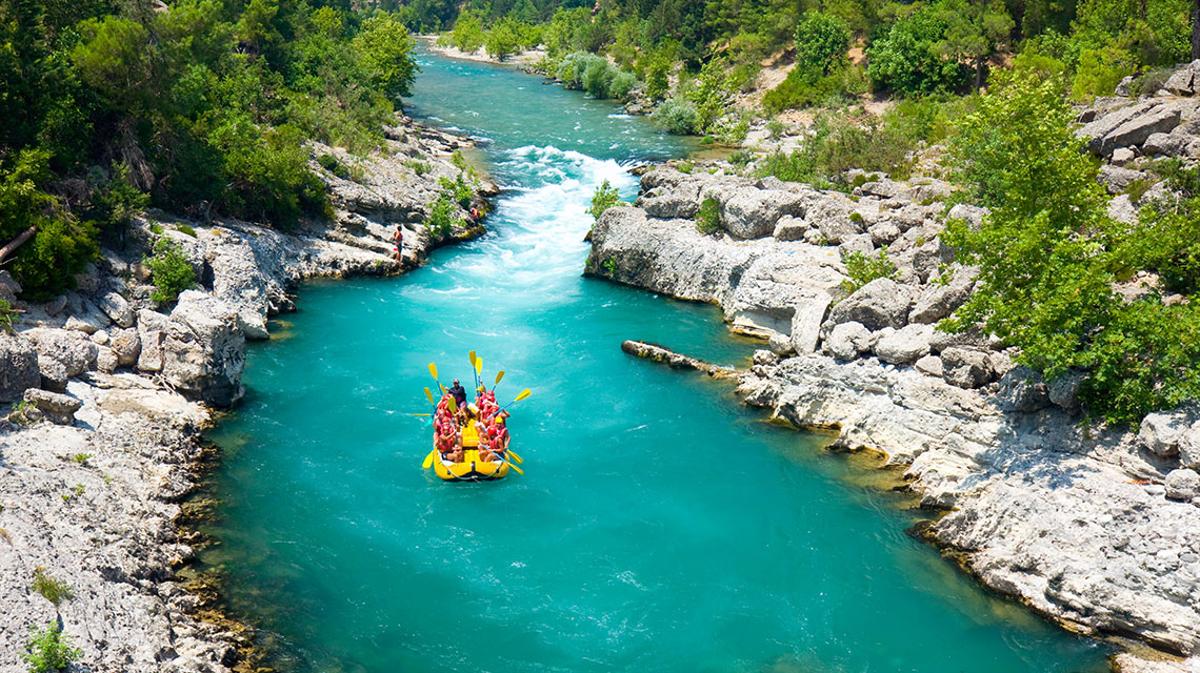 Antalya offers diverse activities for everyone from sightseeing to laying down in sun on the beach and enjoying the sunbath. Antalya has a modern and old town, making it a perfect place for sightseeing around the city. It has history and ancient relics for history buffs.
Old Town (Kaleici)
The maze-like Kaleici is perfectly made for strolling. The Ottoman mansion and houses have been restored and renovated and now has many boutique hotels attracting thousands of tourists every year. It also has restaurants, cafe, pubs and many more fun places which keep the ambiance for youngster there. There are many tourist attractions like the main square, 18th-century Tekeli Mehmet Pasa Mosque, Kesik Minare for sightseeing.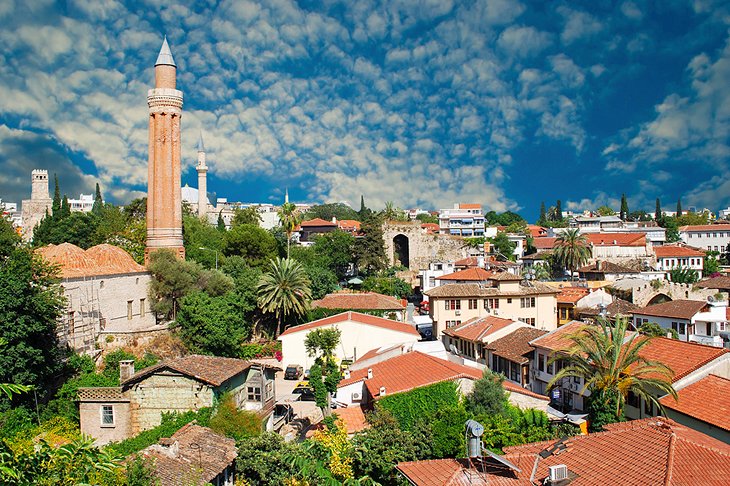 Old Harbour
It is between the cliffs, an old harbor is a picturesque place with boutiques, cafes, bazaars and many yachts providing a chance to enjoy the Mediterranean Sea. It is a peaceful and an important economic hub dating back from the 2nd century. The port is the main entrance to bring trade and prosperity for the surrounding region. You can go on a shopping spree or heat out over the sea to enjoy the yacht excursion and many more activities.
Antalya Museum
If you happen to be a history buff, then Antalya Museum is a place to visit. The museum is always exhibiting and showcasing all the excavation best finds. It has a large collection of rich Turkish history and displays articles from the Bronze Age to Byzantium.
Yilvi Minare
It is one of the most distinctive landmarks built by Seljuk Sultan Alaeddin during 1219-1236. The minaret is a perfect example of Seljuk architect. This minaret is right beside the Kale entrance that leads to the old city. Opposite to the minaret is Antalya Ottoman-era clock tower and nearby there are some tombs dating back the 14th century.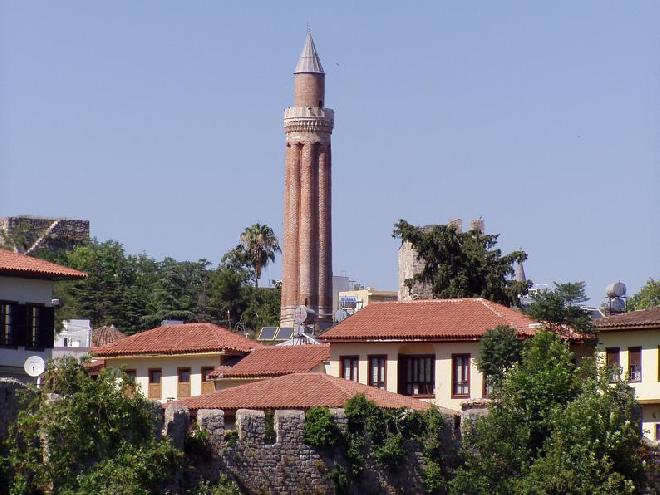 Hadrian Gate
Hadrian Gate is one of the main entrance gates to Kaleici district. The gate stretches from Hellenistic and Roman town walls on the eastern side. It is one of the most preserved gates in this section that was erected in honor of Emperor Hadrian to mark his visit to the city in 130 AD. The gate is decorated with rich marble decorations and best-preserved carvings.
Roman Fortress
It was built in back in the 2nd century and has 14 meters high cylindrical tower over the old harbor and on the edge of Karaalioglu Park. It is one of the perfect spots to enjoy the sunset and get great panoramic pictures of the old harbor area.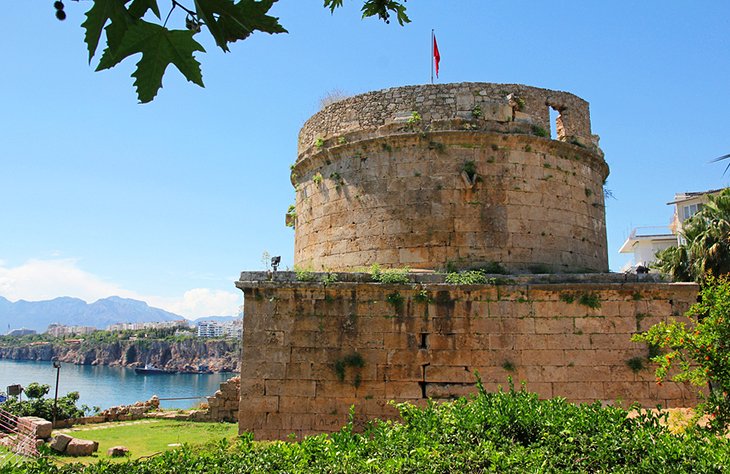 Aspendos
This one of the reasons, tourist visit Antalya. It is an archaeological site to Roman theater and one of the top tourist attractions in Turkey. The theater was built in the 2nd and 3rd centuries. It has a capacity of 15,000 people and has recently been renovated.
Perge
Perge is a vast stadium which has now half destroyed temples and agora with past glory. It used to be the capital of ancient Pamphylia that was famous under Greek and Roman rule. It is not as well preserved as other places but it has many interesting things and sights to visit. The most famous places are Roman baths, Hellenistic Gate, and Acropolis.
Olympus
There are two twin villages Olympus and Cirali on the coastline of ancient Lycian city of Olympus. It has famous ruins and famed attractions for chimera flickering out of rock cliff above. It is a popular destination for young backpackers and is famous for lively nights. Cirali is more laidback and is a place where you can chill on the beach and one of the perfect getaway resorts for tourists.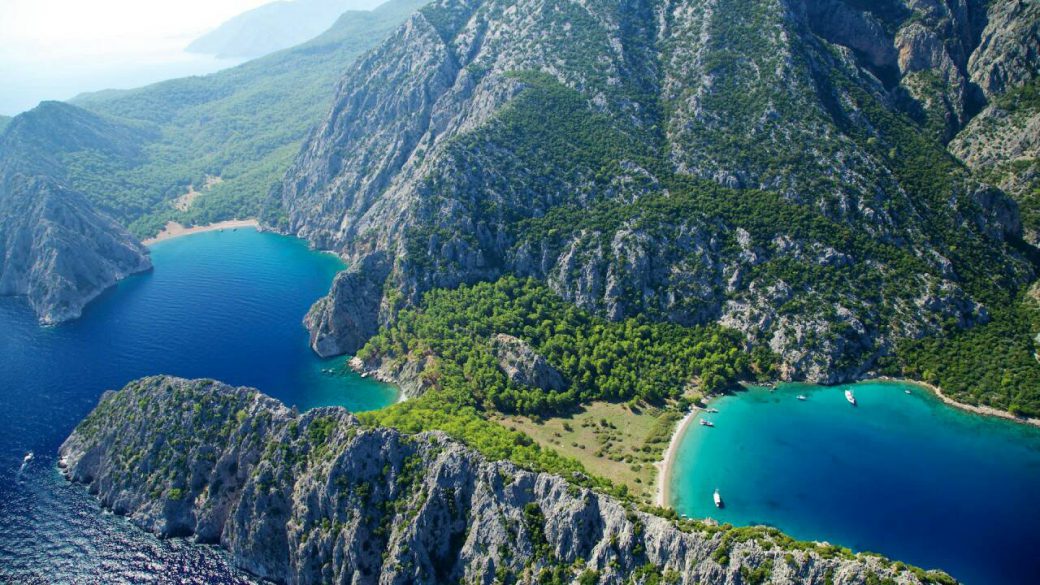 Karst Springs
The countryside region around Antalya is famous for karst springs, sinkholes, and waterfalls. These lime deposits have built up around 1.5 million years ago and evolved into travertine terraces at Pamukkale. Kirkgoz and Pinarbasi are another spring that is just northwest to Antalya. There are Dudenbasi Selalesi and Duden Cayi falls for admiration.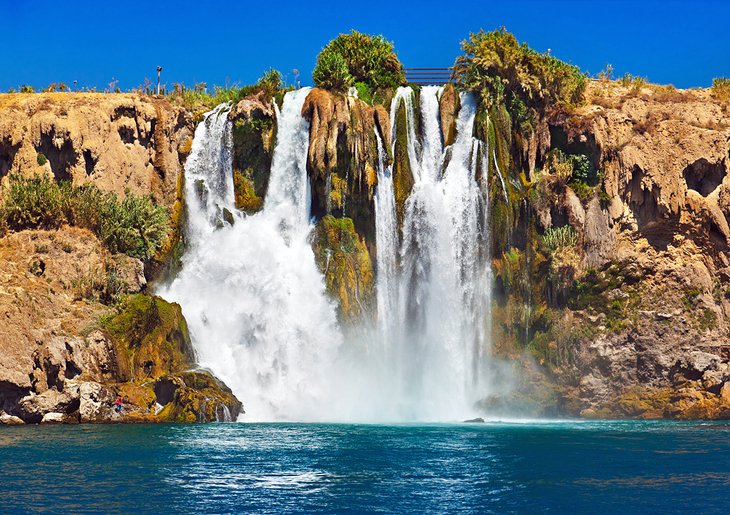 Phaselis
This Lycian port was built by Alexander the Great as his winter quarters in 334 BC. It still has remains of a theater, aqueduct, temples and Hadrian Arch Gate erected in AD 114. The ruins sit on the seaside location. It has a museum displaying excavation and is only a couple of kilometers away from Olympos Telefrik.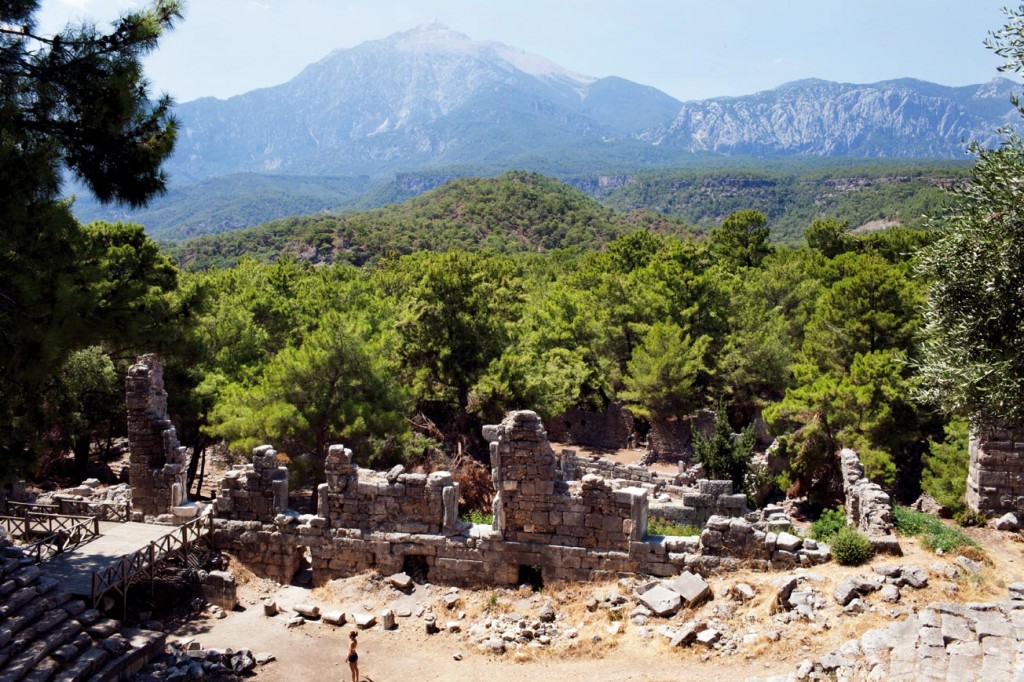 Are you planning a trip to Antalya? Do you want to visit these beautiful golden coastal areas? Do you want a comfortable transfer to the beaches and ancient relics? TRANIGO brings a perfect solution for all your travel needs whether it is an airport shuttle service to and from Antalya Airport. Similarly, if you want Antalya transfer to and from famous places like Olympus, Antalya Museum and many more then TRANIGO is the answer to all your taxi service needs. Wherever you go, Go with TRANIGO!!!